March 8 is International Women's Day and the theme for this year's IWD 2022 is "break the bias". The annual event celebrates women's achievements and brings topical issues in society that keep women from reaching their full potential.
As a woman, whether you look the Okonjo Iwela, Ibukun Awosika, Arunma Oteh, or your mom for inspiration, it's important to know there here are several stories out of everyday women braving to odds across Nigeria and Africa to break the bias.
The same truth permeates every aspect of our society, and the insurance sector is no different. We spoke to two women breaking the bias in an industry within the insurance value chain. Meet Oluwaseun George, an insurance sales professional turned Automotive Technician, and Damilola Adewara, a trained Biological Science professional, turned Automotive Technician.
BREAK THE BIAS: OLUWASEUN GEORGE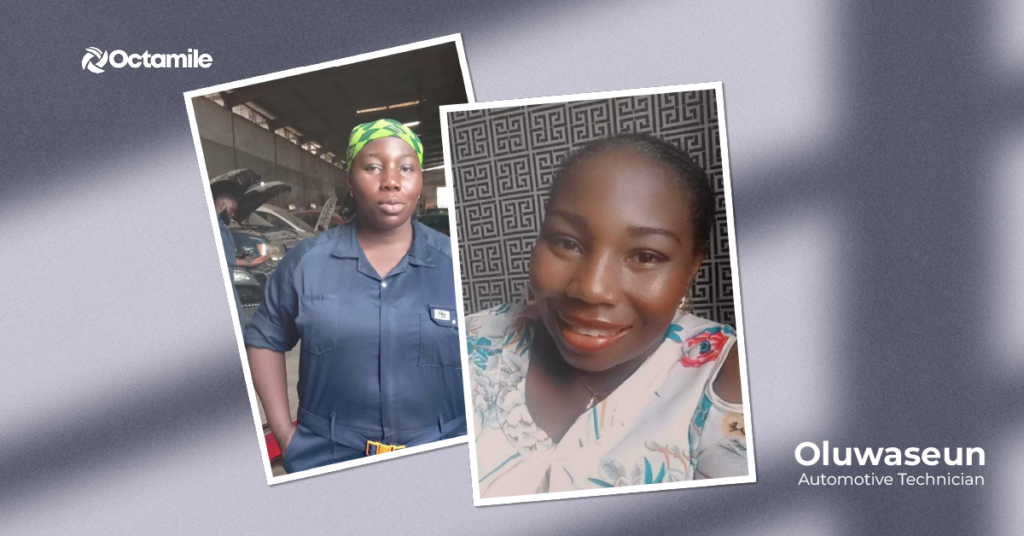 Can We Meet You?
Hello Princewill, thanks for having me. My name is Oluwaseun George. I am an automotive technician. I do general vehicle inspection, diagnostics, and mechanical and electrical repairs on cars.
What or Who Inspired You to Choose this Career Path?
I'm handy by nature. I like to fix things. While growing up, I was always available to assist any painter, bricklayer, electrician etc., that came to work at our house. I believe that is why I chose to study Engineering in the first place.
My interest in cars started when I was a teenager. Being very close to my father, he introduced me to car problems and repairs as I often joined him to his mechanic workshop to fix his cars. We would discuss car issues, causes and possible solutions. I believe that was where my interest in car repairs was birthed.
How Did You Go from Insurance Sales to An Automotive Technician?
I got into insurance in 2017 as a Client Service Executive. I did a lot of sales-marketing insurance policies. I intended to develop skills in marketing, utilise the available resources, and network. It was all about making the most of the present situation. Along the line, I realised I was not satisfied with doing a full-time sales-marketing job. I needed to go back to my field, so I resigned and approached an automobile workshop for an opportunity to work as a trainee. They accepted me, and that is how it started.
What are the Challenges You Faced Going to this Industry?
Initially, I was mocked by some female friends, but I ignored their mockery. Another was that, after my youth service in 2011, I could not get a job in some Automobile Companies I approached because I didn't have hands-on experience even after performing well in their test.
It took me over 6years, I was more than ready to get the experience, and no level of mockery or No's would not stop me. I have experienced resistance from male colleagues as well. They felt I was not capable, but thank God all that changed when they realised that I could do it and that I was seriously interested and capable of delivering on the jobs assigned to me.
What Does the IWD theme "Break the Bias" Mean to You?
Women are faced with challenges, especially when they are in a field formally believed to be for men only. I think this year's theme, "break the bias", seeks to raise further awareness against stereotypes and discrimination against women in STEM and celebrate women who have chosen to challenge gender inequality and are role models to girls and young women.
Creating financial literacy and inclusion for women will help drive higher insurance demand. For example, developing niche products for small-medium enterprises (SMEs) will give women access to available financial services, thereby optimising their growth potentials and ability to create and sustain wealth.
How do you think employers and employees can contribute to "Break the Bias?
Employers and employees can break the bias by creating an enabling environment where women are encouraged to take up leadership roles and are allowed to reach their full potential. When more women know that they are permitted into top positions, they will give their best.
I will advise young girls or women to believe in themselves more. Know that you are capable of achieving your dreams. Seek knowledge and embrace it with confidence. Please, look for a mentor that will guide you on whatever career path you choose. It helps.
The following is Damilola's interview…
BREAK THE BIAS: DAMILOLA ADEWARE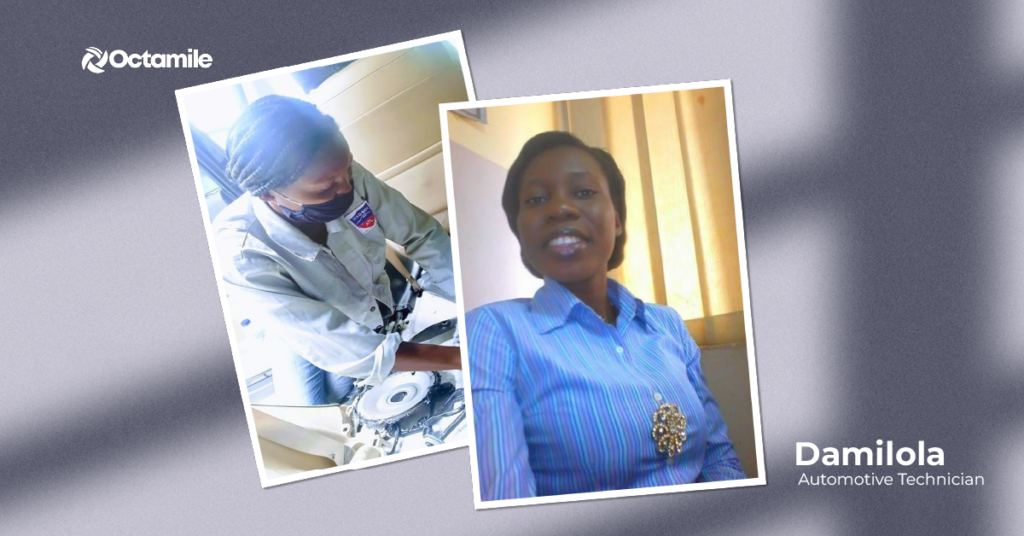 Tell Us About Yourself?
Hello team Octamile; my name is DAMILOLA ADEWARA; I am a 33years and an Automotive Technician by profession. My journey in life is the true definition of fate. While growing up, I wanted to become an Engineer as a Science driven student, but life has its course. I ended up studying Biological Science.
What or Who Inspired You to Choose this Career Path?
Unfortunately, I didn't get employed in the research institute I admired throughout my school years. Hence, I decided to learn a challenging and engaging skill that led my path to Automotive Industry.
What Challenges Have You Encountered Building Your Career?
Hmmm, I will start by saying that the "priceless value of gold does not stop it from going through the refining process." I had to train for four years; those four years were challenging; people looked down on me, especially clients who didn't know I was a graduate, some friends thought I had a spiritual problem. They wondered why I had to keep my degree to rub my body on the floor of a garage.
I thank God for the world revolution that has given women the opportunity to break barriers. Breaking bias has brought equitable opportunities for women even in male-dominated fields like mine. With hard work and consistency, now I have clients who prefer me to work on their cars, and I believe that's an open door for females who might want to venture into Automotive Industry.
What is Your Most Memorable Experience as an Automotive Technician?
My most memorable experience was when my team successfully changed the Chassis of a Toyota Tacoma. It was intriguing because all the truck components were visible and are a sporadic experience for repairers, unlike those who work in assembling plants.
How Can Professional Organisations Help Break the Bias?
I would say employers need to give equal opportunities to both genders, not limiting women's abilities by restricting them to specific positions across whatever hierarchy exists. Insurance companies and employers across several sectors in Nigeria can encourage women by investing in their future.
What Message Do You Have for Your Young-self?
I would advise my younger self to invest more in their time. No knowledge is a waste; get an acceptable world skill. Education is essential. Acquiring more ability would help you stand out.
My Favourite Quote and Car Model?
My favourite quote is " a well-spent time today is a better tomorrow." and I love-love a Hybrid Toyota Highlander. I am fascinated by Hybrid Technology.
In conclusion, breaking the bias is not of benefit to only women but to society in its entirety. Oluwaseun and Damilola's clients won't experience the quality work these women can deliver if they were continually shouted down and not given the equal opportunity to thrive at something that sets their soul and spirit on fire.
We would like to leave you with this question, how are you contributing to breaking the gender biases against women in your little corner?
Happy International Women's Day!