In this edition of Octamile's African Insurance news, "Stanbic IBTC Covers Super Eagles at AFCON", "Liberia: Insurance Group Embarks on Life and Medical Insurance Outreach", "Widows of slain soldiers demand payment of life insurance", "Insurance from drought risk in Zimbabwe" and many more….
AIO Tasks Industry Experts On Continent's Insurance Market
The Africa Insurance Organisation (AIO) has called on insurance stakeholders in the continent to unite and address the challenges bedevilling the insurance industry's growth. The president, Tope Smart, in his New Year message, said the insurance penetration rate in Africa remains low when compared with the global average. He also stressed that there is a need to bridge the gap of low insurance acceptance by addressing challenges confronting the sector across the African market.
Zimbabwe: Innovative Insurance Policy Purchased to Protect Up to 800,000 People in Zimbabwe From Drought Risk
In partnership with the African Risk Capacity (ARC) and the government of Zimbabwe, a global network of humanitarian agencies have announced a new insurance policy to protect at least 800,000 people from drought risk in the 2021/2022 agricultural season. Unlike other types of insurance, this policy uses pre-agreed scientific triggers to plan and respond to people before the significant drought effects are felt. This policy aims to ensure more lives and livelihoods are protected.
Liberia: Insurance Group Embarks on Life and Medical Insurance Outreach
The Insurance Company of Africa also known as ICA was established in 1969 by an act of the national legislature. The ICA is the pioneer insurance industry and longest-serving insurance company in Liberia. 
The Insurance Company of Africa (ICA) has embarked on an outreach to government ministries and agencies to have employees acquainted with the need and benefits of being covered by insurance.
The ICA outreach activity took place on the 12th of January. After deliberating for a while, the employees expressed satisfaction through their worker's union secretary, he mentioned that they would be happy to participate in the available policies.
Stanbic IBTC Insurance Covers Super Eagles at AFCON
The Stanbic IBTC holding Plc, has taken a step to ensure that the Super Eagles of Nigeria are fully insured during the ongoing African football tournament, the African Cup of Nations (AFCON). 
The Nigerian Football Federation (NFF) and Stanbic IBTC announced a partnership late last year to provide a group life insurance cover worth N1.73B and Accident insurance cover for each player up to N583m annually for 3 years. This development makes Stanbic IBTC becomes the official insurance sponsor of the Super Eagles
Widows Of Slain Soldiers Cry For Help And Demand Payment Of Life Insurance.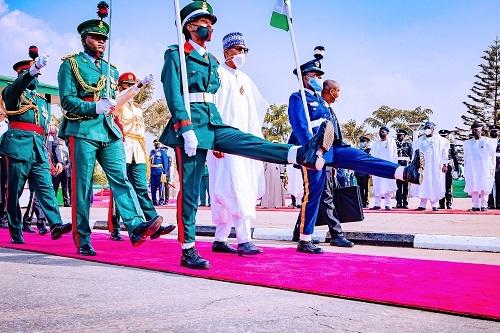 During the celebration of the Armed Forces, remembrance day in Minna, Nigeria, widows of officers and men of the Nigerian Army stormed the venue to demand payment of their husband's life insurance, mentioning that they have been neglected.  
According to Nabila Abdullahi Usman (secretary of the Widows of Fallen Heroes, Niger State Chapter), Mohammed Goje was killed in Damaturu, Yobe State, five years ago. She appealed to the military authorities to assist in sponsoring children's education of fallen heroes.
"I call on the government and Armed Forces to assist the widows of the fallen heroes, particularly the aspect of education of their children. Most of our children dropped out after the death of their fathers. Some of them are now at home because of a lack of sponsors. Some widows came to me over their insurance. The insurance has not been paid for many years. while a few had been given, the majority have not been called for payment."
Rahmatu Abdul Abugi, one of the widows, said her husband, Captain A. A. Abugi, was killed in the line of duty in Maiduguri, Borno state capital, on August 5, 2014. Since then, all efforts to get the life insurance paid have not been successful.
"We want the government and the Nigerian Army to assist us. A lot has not been done for us. Our husbands died in the line of duty; the government and Armed Forces need to assist us."
Prudential Africa Signs Insurance Pact With CAF
Prudential Africa has signed a sponsorship agreement to become the official insurance partner of the 33rd edition of the Africa Cup of Nations (AFCON) 2021.
At the sponsorship press conference, the CEO, Prudential Northern Africa Region, Eric Mboma mentioned that the sponsorship is a means of supporting the passion and talent of Africans.
The Confederation of African Football (CAF) General Secretary Mr Véron Mosengo-Omba mentioned that he is pleased about the partnerships both organisations share a common purpose.
Prudential is a global financial services group providing life insurance, pensions and asset management products and services to approximately 20 million customers in Asia and Africa. They operate in eight countries across Africa: Cameroon, Côte d'Ivoire, Ghana, Kenya, Togo, Uganda, Zambia and Nigeria.
Insurance firms' assets hit N2.09tn amidst recapitalisation suspension
According to a Punch news reporter, Nike Poopoola, "The insurance sector's total assets have risen by N228.24bn in 15 months despite the abrupt suspension of the National Insurance Commission's segmented recapitalisation exercise"
The Nigeria insurance industry's recapitalisation exercise which should have ended in September 2021 was halted in its second and final stage by litigation from aggrieved stakeholders. However, figures from The PUNCH showed that the sector's total assets rose from N1.8TN in June 2020 to N2.09TN as of September 2021.