Can embedded insurance APIs increase penetration in Africa?
The innovation footprint in the insurance sector driven by insurtechs is fast-growing in Nigeria and across Africa. While the insurance penetration on the continent still ranks below 3%, dropping from 2.78 in 2019 to 2% in 2020. There is a need to find new solutions to deepen insurance penetration quickly.
Although the impact of COVID-19, the global lockdown, and other economic challenges across the continent slowed the growth trajectory of the insurance industry, the embedded insurance APIs strategy promises to enable it to break Africa's 3% insurance penetration cap.
The simple reason is that it ensures that "insurance product is not sold to the customer ad hoc, but is provided as a native feature" to a product or service. Hence, opens up the opportunity for forging meaningful partnerships between underwriters, insurtechs like Octamile and digital platforms or app consumer businesses for onboarding more consumers onto the insurance value chain.
Such partnership creates a win-win for consumers, insurtechs, B2C businesses and insurers. Let us take a look at ways embedded insurance APIs increase penetration and help deepen insurance adoption among African consumers.
How Embedded Insurance APIs Increase Penetration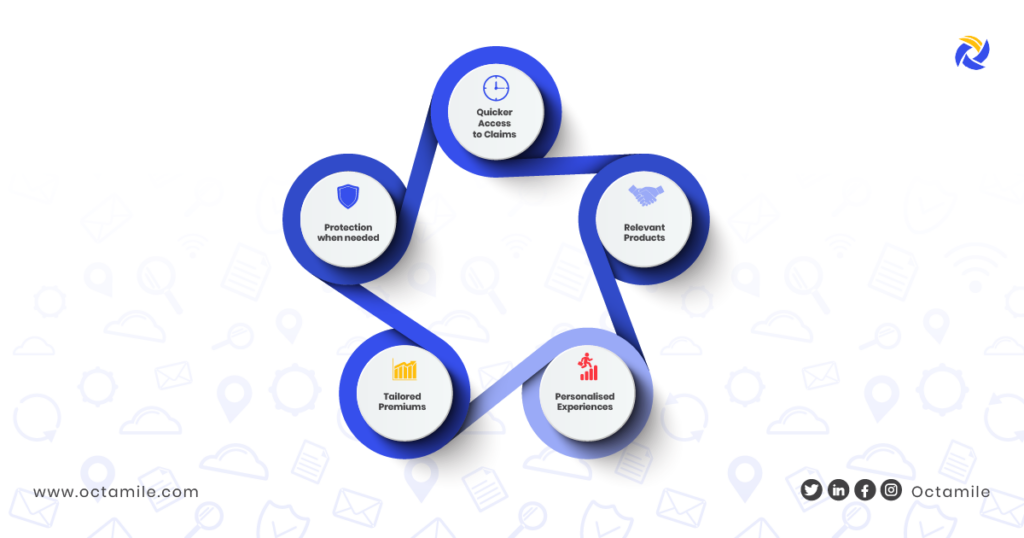 Easier to Distribute: Embedded Insurance APIs increase penetration by enabling easy distribution of insurance products. When consumers make a purchase online, a mobility business offers goods-in-transit insurance cover or other relevant covers available during checkout.
The insurance product(s) needed by a consumer is offered in the consumer journey, which increases their chances of purchasing it based on their need.
Digitisation and Seamless Experience: Embedded insurance APIs increase penetration because it takes digitisation and the seamless consumer experience to the next level. This can easily be seen by how already existing and validated consumer data in their different digital ecosystems where the APIs are deployed are used to fast-track their policy purchasing experience.
Quicker Access to Claims: A look at the African continent claims payouts for 2021, Nigeria grossed 508 billion Naira and paid 224 billion Naira in claims, while South Africa settled 608 billion ZAR, and Kenya, Ksh 68 billion was settled in insurance claims.
The growth witnessed in claims payment across the continent debunks the false narratives that African insurers don't pay claims; embedded insurance will further enable insurers to digitise the claims payment experience for consumers leading to seamless, quicker access to claims payouts and more consumer trust for the insurance sector.
Tailored Premiums & Relevant Products: Seamless in how they are deployed, embedded insurance APIs offer tailored-made premiums and relevant products, unlike traditional Adhoc insurance distribution channels.
They also enable insurers to access consumer segments previously excluded from the insurance value chain and provide data and analytics for future product design and deployment.
Bite-sized or micro-insurance products deployed to serve millennials or other low-risk consumer segments via fintech, digital marketplaces, and different verticals creates easier adoption and cater to their needs.
Protection When Needed: The level of customisation that goes into deploying embedded insurance APIs ensures that they provide the most suitable safety net and protection for the consumer when needed.
Insurance products bundled into a service or existing product serve the consumer's needs and, in many cases, are optional for their protection. For example, in Nigeria, VeedHQ a lendtechs is protecting digital lenders and their consumers with Octamile's embedded insurance APIs.
Personalised Experience: At the core of driving insurance adoption with the next generation of consumers, personalisation plays a massive role for insurers to create products, tailor premiums, and embedded insurance APIs will be at the forefront of unlocking the data points on insurance consumer behaviours.
Octamile, a leading insurtech, is driving the insurance penetration across Nigeria and Africa by partnering with top underwriters and B2C businesses to offer context-relevant insurance products across the Motor, Credit Life, Health, Gadget, Life and Agricultural insurance products.
Create a new revenue stream and solidify your value proposition to consumers with our embedded insurance APIs today; schedule a demo or email us at business@octamile.com to leverage our launch relevant insurance products from leading underwriters in minutes.