Africa's population represents 16.72% of the total world population, according to a United Nations report. If we look at the giant strides on the continent in mobile technology, human capital development, rapidly growing startup culture, cross-border trade, and many more. It paints a picture that Africa is rising.
However, there is much work to be done through public and private partnerships. Access to Insurance Initiative – A2ii – (a global partnership working to ensure that the worlds excluded and underserved have access to Insurance); states that insurance allows the worlds excluded and underserved to take control of their lives and reduce their vulnerability against risks. Hence, Insurance is vital to achieving the United Nations Sustainable Development Goals (SDGs) for Africa.
However, a look at the continent tells a different story of how insurance adoption across the continent faces a myriad of issues like poor adoption, age-old traditional insurance stacks, lack of access and ease of access by consumers, and multiple policy issues across the different economic climates.
According to a Mckinsey recent report, Africa's Gross Written Premiums (GWPS) are below one per cent of the global insurance market. Indeed, it shows that the adoption of Insurance in Africa is still abysmal. If the sector must grow, traditional insurance organisations, insurtech startups, and non-insurance businesses in Africa must partner to accelerate insurance adoption and ensure buying a policy is a seamless experience for customers. We have built Octamile, Africa's Digital Insurance Operating System, to enable this desired change.
Our insurtech solution will help organisations to build a financially inclusive future for every African on the continent. Let us look at what Octamile insurtech solution will offer organisations insurance and non-insurance business to simplify access to Insurance and secure the financial future for Africans.
Octamile Digital Insurance for Africa Offers: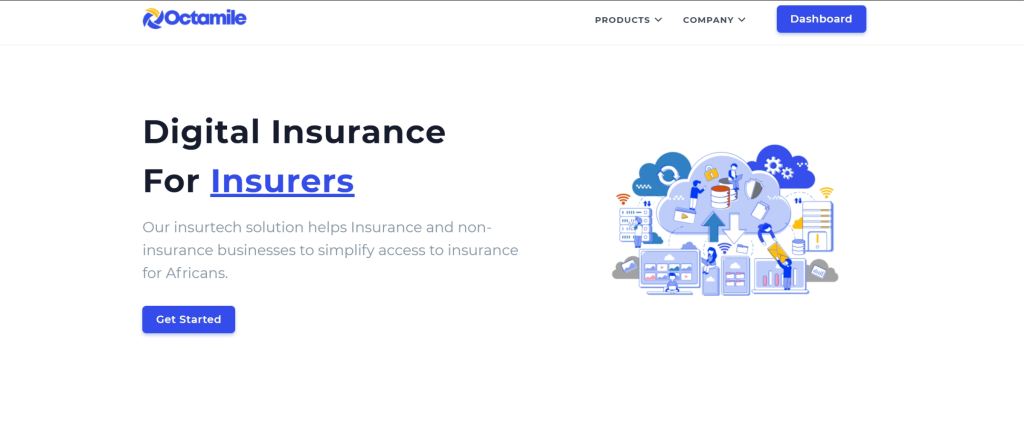 Efficient Risk-Assessment
Our Insurtech platform ensures that the risk assessment by African Insurers' risk for claims processing is backed by data provided from multiple sources to better profile customers and their assets and fast-track a seamless customer experience.
Insurers can implement better pricing and risk profiling practices for their customers, which significantly increases the profitability of their Insurance portfolio. Insurance Brokers, Banks, Fleet owners, Online Marketplaces can also leverage this data for accurate and efficient risk assessment.
Insurance Distribution for Non-Insurance Businesses
Powered by our customisable and flexible APIs, developers and founders of non-Insurance businesses can immediately boost revenues and increase the lifetime value of their existing customers across Africa by adding Insurance by 'default' as a feature on a current product or as a standalone product for their customers.
Improved Claims Processing
Our improved end-to-end claims processing technology helps businesses process claims faster, cheaper, and better. This feature also empowers African Insurance providers to integrate our solution into their existing systems that cover First Notification Of Loss (FNOL), remote and touchless inspections, rule-based decision-making, and payments.
At Octamile, we are very passionate about simplifying access to Insurance by empowering Africa's Insurance ecosystem. We want to see more Africans with a secured future protected from financial loss through access to diverse Insurance covers.
And it doesn't stop here…
Come with us on the journey to a secure future for Africa. Build with Octamile Inc; click here to schedule a meeting with our business team.